Hi guys!
well... it looks like this: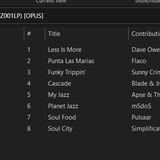 (https://freeimage.host/i/qdWyAu)
Do you know how to 'force' Windows 10 to show this information?
Windows only displays bitrate of audio formats it natively supports. You'll have to ask whatever software developer made it possible for you to view Vorbis tags to also add support for Opus bitrate.
I was hoping maybe there's some easy fix but there's not and since this is not that important I'd rather leave it. Thank you! :)